Jumpin' Noordwijk - Attraction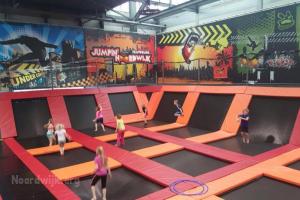 Enjoy 1 or 2 hours of trampolining at Jumpin' Noordwijk! This indoor trampoline park is a whopping 1000 m2 in size and is packed full of challenges. In short, a sporty outing for both young and old!
The varied park features a Maincourt, Tumbling Lane, Big Air Bag, WallRider, BounceTrack, Valo Jumpin', F1 racing simulators, and High Performance Trampolines. Check out how cool the park is here!
Furthermore Jumpin' Noordwijk is near the following sights: Oude Jeroenskerk (±1,1 km), Streekmuseum Veldzicht (±1,9 km), Swimming Pool BinnenZee (±2,0 km), De Rollygolf (±2,2 km) & Nature Center Jan Verwey (±2,3 km).
For information:
Book tickets online
Van Berckelweg 34, Noordwijk
web.
Website