Groenendaal - Playground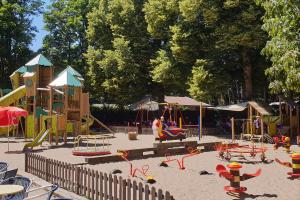 Discover the charming playground Groenendaal located in the picturesque Heemstede, a place where nostalgia and modern playtime meet. With a variety of play equipment like a scooter track, various climbing frames, a cozy family swing, a challenging water track, and an authentic mini-train on real tracks, there's an adventure for every child to experience.
Playground Groenendaal is an inviting play environment for children of all age groups, although it's particularly suitable for children up to 10 years old. For the youngest ones, there's a separate smaller climbing frame available, so they can also explore the world of play at their own pace.
We've also thought of the parents. In the relaxed and friendly ambiance of playground Groenendaal, parents can enjoy a wonderful time. Take a seat on our sunny or shady terrace, where you can enjoy a refreshing drink while watching the children play. The terrace provides a good overview of the playground, ensuring you can always keep an eye on your children.
Experience a day full of fun and beautiful memories at playground Groenendaal, a play paradise for both young and old in the heart of Heemstede.
For information:
Groenendaal 5, Heemstede
web.
Website