Museum of Comic Art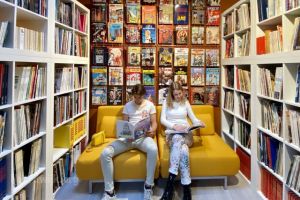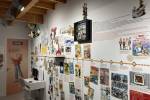 Located in the heart of Noordwijk aan Zee, the MoCA is the place for all Dutch comic book enthusiasts and a must-see location for tourists who want to get acquainted with the wonderful world of comics.
Original drawings straight from the artist's table show how comics are made and why they are loved around the world. Since the comic's inception at the end of the nineteenth century, billions of people have embraced the genre. First in the newspapers (where it always was, the first thing people looked at), later in magazines, separate comics, bundled in books and as complete graphic novellas.
The changing exhibitions are always a must-see for comic book lovers.
Children
For children there is a treasure hunt through which they can get acquainted with the comic strip in a playful way. It is also rewarded with a comic book.
And what about taking a picture in the selfie corner with Asterix and Obelix or browsing through thousands of comic books in the reading corner. There is even a digital program to have a diagnosis made by the 'comic psychologist' Sigmund.
In the smallest museum cinema room in the Netherlands you can see how a comic strip is made and when you enter the comic shop Fantasia you will see hundreds of nice figurines of famous cartoon characters in addition to of course the very latest comic books. In short, that will also be fun for children in the museum.
Furthermore Museum of Comic Art is near the following sights: Museum Noordwijk (±90 m), Lighthouse Noordwijk (±650 m), De Rollygolf (±700 m), Swimming Pool BinnenZee (±700 m) & Atlantikwall Museum Noordwijk (±900 m).
For information:
Bomstraat 11, Noordwijk
web.
Website