Lighthouse Noordwijk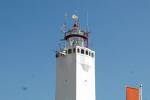 Since 1444 the beach of Noordwijk was being lit after sunset. A big fire was set to show the fishermen the way to the coast. In the 19th century the first wooden lighthouse was built in Noordwijk. The lighthouse as it now stands on the Wilhelminaboulevard at the Vuurtorenplein dates from 1921. The tower has six floors and a staircase with 108 steps. It is not possible to climb the tower but a walk to the lighthouse is well worth it.
Characteristic
Name: Noordwijk
Built: 1921
Tower height: 25,5 m
Light height (above sea level): 33,0 m
Floors: 6
Stair treads: 108
Manned: No
Open to the public: No
Furthermore Lighthouse Noordwijk is near the following sights: Atlantikwall Museum Noordwijk (±300 m), Museum Oud Noordwijk (±550 m), Museum of Comic Art (±650 m), Nature Center Jan Verwey (±700 m) & De Rollygolf (±750 m).
For information:
Vuurtoren van Noordwijk
Koningin Wilhelmina Boulevard 35, Noordwijk