Subtropical swimming pool Aquamar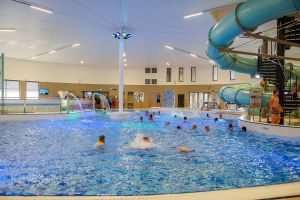 The Subtropical swimming pool Aquamar has pleasant water, and air temperature year round. Rock formations, palm trees and plants emphasize the tropical environment. Rapids, hot whirlpool, a super fast slide, hot water basin, pulsers and jet streams provide entertainment for the whole family.
If you are tired of swimming you can also take a refreshing steam bath or even pop in the solarium for a healthy tan. And for those who want to relax while enjoying a cool drink or a snack after all the activities can go to the terrace of the cozy Oasis Beach Bar.
In the covered sports pool the sporty swimmer type can go all out! The basin is a whopping 50 meters long and 21 meters wide.
The water temperature is a constant 27º C (81º F) and is therefore well adapted to the needs of the athletic swimmer. There are two springboards available and underwater lighting ensures coziness and safety. For a large part the basin has a water depth of 3.5 meters (12 ft), so it's perfectly suitable for underwater sports.
Furthermore Subtropical swimming pool Aquamar is near the following sights: Mill and Lake Tour from Katwijk (±900 m), Katwijks Museum (±1,1 km), Space Expo (±1,6 km), Spinozahuis (±2,0 km) & Streekmuseum Veldzicht (±2,8 km).
For information:
Zwembad Aquamar
Piet Heinlaan 5, Katwijk
tel. +31 714 015 947
web.
Website